This is a question that many parents ask me so I thought I would it would be a good idea to write a blog on this.
What is the point?
All professionals in education have a common aim, to ensure that the student progresses to the best of their ability. Teachers tend to work with larger groups of students in a classroom setting and tutors work with individual or small groups either online or face to face. There is a huge difference between class and individual teaching therefore the skills required by our experienced and capable tutors are different to the skills a teacher may use within a school setting.
How do tutoring and teaching differ?
Teachers often deliver learning to 28+ students and have to plan their lessons and resources to meet every child's needs in that class. As a former teacher myself, I can tell you that this has a big impact on your planning and resources. It also reduces the time to focus on each student individually. Tutors predominantly teach 1-2-1 and give all their attention to that student during the session. Similarly all the planning and resources are based around the student's individual strengths and weaknesses. The style and content of the session is based entirely around the students needs . It may support the curriculum the student is following in school ( GCSE, SATs, A Level, 11+) be based on a specific learning need that the student has ( maths support, writing support, comprehension, confidence, ) or it could supporting the improvement of exam technique or building confidence ( exam techniques, revision techniques, time management, planning an essay). Our tutors employ many different strategies to ensure that the students get the very best out of their sessions.
The benefits of tutoring
Having 1-2-1 tuition enables the tutor to really focus on the individual student. The relationship that forms is more than just tuition. Our tutor ensures that the students find the sessions engaging, productive and enjoyable. We want all students to enjoy their learning journey. Once we have built trust and confidence with the student it then allows us to know when we can push a student out of their comfort zone, to try new things and to attempt harder work. Students come to realise that making mistakes becomes an opportunity to learn and not something they should shy away from. In my opinion this is where the magic happens and students really start to progress. This is known as accelerated learning.
Why does online tutoring work so well?
Online tutoring and the technology used is constantly evolving. Our tutors have a wealth of experience in delivering highly effective sessions. They have become experts at using and sharing files, documents, online videos, interactive devices  and presentations to be worked on in real time. This means that feedback with the student is constant and instant.
The proof is in the pudding
Here at NEGU Tuition Services I am delighted to constantly receive positive feedback from our clients and students . Here are some examples of feedback that I have received in the last 2 weeks. We don't sit on our success, we know that in a constantly changing world we have to keep improving to deliver expert tutoring that I feel is the best available in the today's market.
What does this tutor do well?
Amy makes C feel at ease and is friendly and kind.
Review Details
Imogen is a great tutor to S. She is patient and takes her time with S. She has learned so much since starting with Imogen. S looks forward to her lesson every week. I can see already her confidence has grown. Thank you
Award Winners Medway Business Awards 2022
Of course, I know I may have mentioned it a few times, but we were absolutely thrilled to have been nominated as finalists for the Medway Business Awards. The most prestigious awards ceremony in Kent, celebrating the achievements of both large and small businesses based in Medway Home – Medway Business Awards.
Even better, we won an actual award as Rising Star. This recognition of the high quality, high value service that we provide in private education has really validated what we are all about at NEGU Tuition Services. I just love this picture of the team.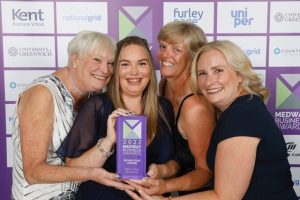 How to get in touch
Do you want to help your child succeed on their education journey? We can build their self esteem and confidence, improve their understanding, increase their chances of exam success and hopefully develop a love of learning that stays with them for life.
Simply head to our website Contact – NEGU Tuition and complete the enquiry form and I will then contact you personally to discuss your requirements.